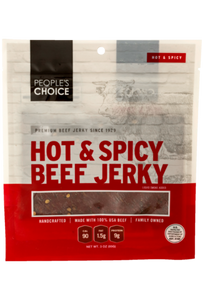 Classic Beef Jerky
The Classic Beef Jerky line is one of our most iconic meat snacks: a Western-inspired, slab beef jerky. Each sheet of the Classic Line Beef Jerky is at least 30% bigger than our closest competitor - talk about Big Slab jerky.
Most locals in Southern California will fondly remember purchasing whole slabs of the Classic Beef Jerky at fruit stands, gas stations, and neighborhood convenience stores. The original and ultimate road trip snack hasn't changed one bit and neither has our goal: to provide a better alternative to the processed meat snacks in the marketplace without compromising value.
The Big Slab Bag (15-Count, 1.5 LB) comes with 15 slabs of jerky. Looking for the same great flavor and texture but in a more convenient size? The 3 ounce bag comes in a resealable jerky pack great for on-the-go snacking.
Special Ingredients & Process

Whole-muscle chunks of 100% American beef are thinly-sliced into massive jerky sheets, marinated with classic jerky flavors, and cooked to a slightly dry texture that enhances the irresistible flavor of hot jerky, teriyaki jerky, and original jerky.
All meat snacks in the Classic Beef Jerky line are handcrafted with love by our family in our Downtown Los Angeles jerky factory.
Tasting Notes

Initial kick of heat from cracked red pepper marries into the sweet & savory spice blend and finishes with a nice residual heat.
The Classic Hot & Spicy Jerky sets the gold standard for sweet & spicy jerky and hot jerky.
Benefits
SLICED PIECES OF REAL JERKY - Hand Sliced from Whole Muscle Cuts of Beef -  Never Chopped & Formed

PROUDLY MADE IN THE USA - Exclusively 100% Premium USA Beef, Premium Jerky Made in Small Batches

PACKED WITH PROTEIN - 9g of Protein Per 1 oz. Serving

AUTHENTIC SLAB STYLE JERKY - Whole Pieces, Not Soft, Chewy Steak-Like Texture